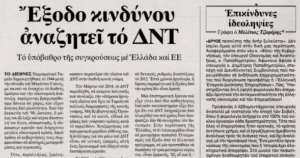 Impress your friends or relatives, by showing them a newspaper from Greece. You can give it as a special gift for someone special. The salary includes:
The cost of the newspaper
The registered mail cost.
My time and effort.
The newspaper is among the last published documents in polytonic greek. Polytonic is not used since the 80's. It is a special and low volume publication.
More about polytonic Greek here .